Click here to sign up to help maintain our summer gardens: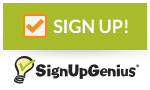 SignUp Genius tips:
Every member creates their own signup genius account using their own email.
If you can't remember your password, there is a place to click under Already a Member? and they will email you a new temporary password. If you can't remember if you created an account, just use the forgot my password link, enter your email and if you have not signed up, they will tell you they can't find you.